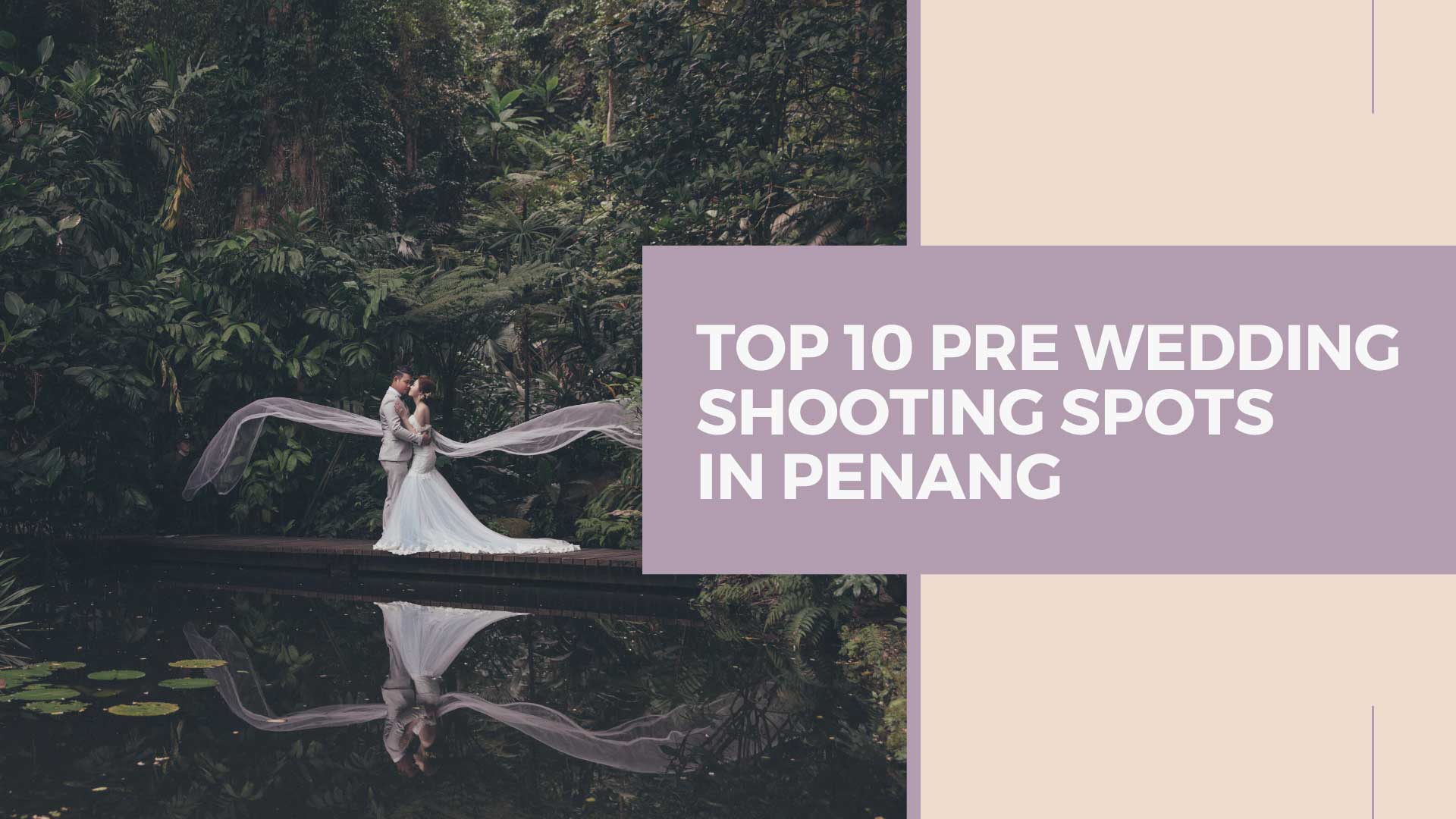 24 Nov

Tips: Top 10 Pre Wedding Shooting Spots in Penang
Top 10 Pre Wedding Shooting Spots in Penang
Check out the video for more info!
Peranakan Mansion is one of the most famous Baba Nyonya heritage houses in Penang, Malaysia. It is a bungalow house with a romantic vintage theme for a photo shoot. Furthermore, the interior is full of old antiques which make your pictures outstanding. We have many clients who fly all the way from overseas for a photo shoot at this place.
Tropical Spice Garden is one of the award winning tropical gardens in Southeast Asia. The simple and green scenery helps the couples to standout from the picture. Not only that, Tropical Spice Garden has a beautiful lake and waterfall which make the place so much more special. Because of that, it has became one of the must visit places in Penang.
Botanical Garden
Botanical Garden is one of the most common places for pre wedding shoot in Penang. However, there's a beautiful hidden spot on top of the hill. If you are there at the right time, you can catch the autumn-like shots.

Georgetown Streets
Penang Georgetown is known as a UNESCO World Heritage Site. It features restored and re-adaptive traditional architecture. Not only that, Georgetown is filled with interesting mural paintings.



Tanjung Tokong Beach
This is one of my favourite locations for pre wedding. It's not just any simple beach as there are touches of different elements to it. The beach has an old building, a stretch of rocks at the sides and of course a clean beach. I highly recommend this beach for most of my clients because the place is clean and less crowd.



Batu Feringghi Beach
Batu Feringghi is one of the most famous tourist places in Penang. Of course, there are many hotels along the beach. I like to recommend the place to my clients if they like to take with horses. There are not many places in Penang whereby you can find a horse at the beach but Batu Feringghi is one of them.



Teluk Bahang Dam
Teluk Bahang Dam is a hidden beautiful spot for photo shoot. The dam is huge with water and hills behind it. Hence, the place is very nice for couples who love simple and clean background.



Tan Jetty
Tan Jetty is one of the six clan jetties in Weld Quay, Penang. It is not as popular as Chew Jetty but Tan Jetty has it own uniqueness. I personally like the long stretch of unbarricaded bridge all the way to the end. It's simple, clean and unique.
Malihom Private Estate is a luxury peaceful place located at Balik Pulau. Balik Pulau is far away from the city. The place has a touch of nature environment. Besides that, Malihom is also one of the best spots for sunrise as well as sunset.
Eastern & Oriental Hotel is one of the most recommended hotels for my clients. It is a luxury heritage hotel which offers pre wedding photo shoot for their clients. In addition, the place brings classic and oriental touch to the picture. These elements make your pictures look attractive.
There are too many to shooting spots to mention in Penang. These are the Top 10 Pre Wedding Shooting Spots in Penang.
I hope it helps you to made up your mind.
If you have any other places where you think they deserve to be listed in the top 10 list, please share with us. We are more than happy to credit them.
Meanwhile, contact us now if you are interested in our service!